Federal USDA Home Mortgage Loans Being Processed Again
The federal government shutdown made it difficult for some real estate agents to close deals on certain properties, especially in rural areas.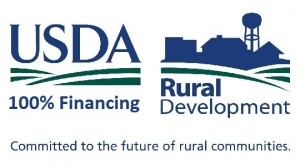 The shutdown lasted more than two weeks, causing delays for real estate agens across the country, whose clients are seeking federal loans. Unfortunately, the longer the federal government remained shut down, the more difficult it was to get certain paperwork and funding processed.
During the government shutdown, United States Department of Agriculture (USDA) employees, which process loans for some rural real estate purchases, were furloughed without pay. It caused the agency's loan processing to come to a near standstill.
The shutdown kept the USDA from accepting new loans, and slowed the process to disburse payments for loans approved prior to the shutdown. Without final approvals from the USDA, anyone attempting to purchase a house with a loan from the organization cannot close their deal.
Other agencies handling mortgages and loans, such as the Federal Housing Administration, were functioning, but  delayed by different government entities being furloughed during the shutdown.
Typically, loan agencies need transcripts from the Internal Revenue Service and Social Security to process a mortgage, while some commercial loans need final approval from the Small Business Administration. Those agencies were shut down also. The USDA shutdown could cause the most delays in rural areas.
A real estate agent that works primarily with rural properties stated "It's going to take some time, and buyers and sellers have to know if they're going to be wiling to wait for federal loans to go through. It can really become frustrating for everyone, including the agent, who is trying to help." "But when an agent has nothing to report to their buyer and seller, all parties tend to get antsy."
Now that the shutdown has concluded, the expectation is for most agencies to become backlogged. That could delay the closing process further. Many approvals are probably just sitting there, waiting to be looked at. The typical USDA transaction takes about 45 days, and now you could add another 14 days, or perhaps even longer, depending on how long it takes the government to get back into full swing.
It's harder to keep a transaction together when it runs past 60 days, especially today, where everything is based on instant gratification.
Federal USDA home mortgage loans will start being processed again, though there'll inevitably be a back log. The applications will get processed; it just may take a little bit longer than usual.
DISCLAIMER: Neither Indiana USDA Mortgages
(IndianaUSDAmortgages.com)
nor Luminate Home Loans is affiliated with any
government agencies
, including the
USDA
.